Cold Forming Blister Foil
ALLOY:
8021
THICKNESS:
130--200 mm

Pharmaceutical Blister Packaging Materials: Cold Forming Foil; Cold Formed Foil ; Alu-Alu Bottom Foil; Tri-laminated oPA / ALU / PVC Foil For Blister Pack


PRODUCTS DETAILS
Cold Formed OPA/Al/PVC Sandwiched Foil For Blister Packs
About Cold Formed Alu Alu Foil :
Cold formed aluminum foil is at the heart of alu alu OPA/Al/PVC sandwich foils used for pharmaceutical blister pack applications because of their inherently superior advantages. Aluminum, even in micron thickness, is the best vapor and light barrier besides providing aesthetic shine for pharmaceutical blister packs.
What is pharmaceutical Cold forming foil?
Pharmaceutical Cold forming foil is made of aluminum foil, nylon (oPA) and PVC films, by using dry bond lamination technology. As blisters are formed at room temperature, without heating, so it is called as cold forming blister laminated foil.
Cold forming foil is one type of triplex packaging material, between each two layers, there is adhesive for lamination. The adhesive we are using is imported from USA, to ensure good performance during cold forming process, such as no delamination and cracking.
Name

Cold-Form Aluminum Foils

Structure

Bopa25/AL45/PVC60

Bopa30/AL60/PVC60

Bopa25/AL50/PVC60

Bopa30/AL65/PVC60

GSM

240g ~265g

281g ~300g

Specification

Width< 1000mm; Thickness: 0.14-0.16 mm; ID of core: 76 mm OD of core: 240-280mm, also can be according to customer's requirements
Warm advice :
generally speaking: the light foil 25/50/60 & 25/45/60 is good enough for small blisters or doses, small round tablets or pills, etc. But the blister profile and distance between each one will affect the performance of cold forming.
Meanwhile the operating speed, mold condition would take into account. Do not worry, we sigma will offer free sample to you for machine trial. It only takes 5-7days to prepare plain sample.
So it is best that you could share us the forming drawings, or send blister packs to us; if not available, the clear images of blister pack will be helpful to check and recommend the good foil to you.
There are regulations on how moisture-, oxygen- and light-resistant blister packaging must be, but some products may require extra resistance. While many different materials can be used to make blister packs, they can be separated into two categories: cold-formable and thermoformable;
Cold-formable material is commonly pressed aluminum that is laminated with plastic. The aluminum is resistant to many outside forces and has high mechanical resistance; aluminum has a tendency to leech into other materials and to crack, but the plastic inclusion corrects these issues. Thermoformable materials are plastics that can be easily molded into any shape, but they are not as resistant to outside forces — especially light — because the plastic is transparent. If the product is a simple shape that needs high resistance, then cold-formable materials are likely best;
Cold Forming Blister Foil(Alu-Alu) is one kind of blister primary packaging material for solid pharmaceuticals, like tablet & capsule.
The foil produced in sigma factory is three layers laminated: oPA / Alu / PVC, under using dry bond lamination technology.
Cold Forming Blister Foil Features
100 % barrier against water vapor, gases, light etc.
Excellent formability
High degree of thermal stability
High malleability for deep drawing blister cavities
High aesthetic appeal
Sealable with aluminum lidding foil
Colorful surface as RAL color-list
The PVC film in alu -alu laminate is commonly used as the contact layer and seal to the lidding foil on pharmaceutical blisterpack (as neutral layer for the goods to be filled).
PVC is very stiff and does not tend to shrink or spring during cold forming. Once the cold forming process is complete, the PVC helps the cavity hold its shape. In short, it ensures the geometric stability after cold forming.
The nylon (oPA) film is mostly responsible for the multi - axial forming. Laminating the aluminum with the oPA film doubles the formability of the blister.
The Differences Between Thermoforming and Cold Forming Blister Pack
Blister packs are commonly used as unit-dose packaging for pharmaceutical tablets, capsules etc. The primary component of blister pack is a cavity or pocket made from a formable film, usually a thermoformed plastic or cold formed aluminum film. This usually has a lidding seal of aluminum foil.
Using different packaging materials and principles of forming, Blister Packs may be divided into two types: aluminum/plastic (thermoforming) blister pack, aluminum/aluminum (cold forming) blister pack.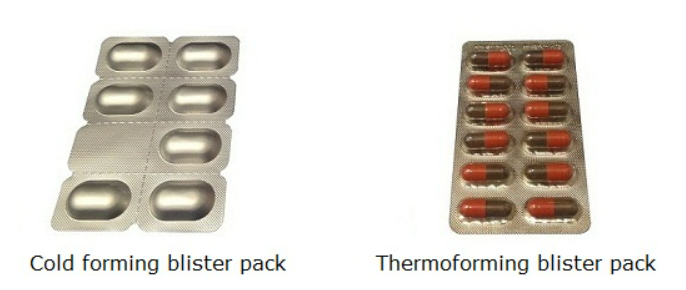 The advantages of Cold Forming Blister Foil:
The most basic material for the forming web is PVC or Polyvinyl Chloride, for ease of thermoforming and low cost.
The product can be visually examined through the transparent plastic. The fault blister card can be rejected vie the inspecting camera or naked eyes.
Because the cavity or pocket contain the item snugly, it can adopt the universal feeder which consists of circular brushes and planetary agitators that sweep the products into blister pockets. Parts are not required for different formats. This feeder is noted for its low cost and ease of operation.
The use of aluminum offers a nearly complete barrier for moisture,light and oxygen, allowing an extended product expiration date.
The disadvantages of Thermoforming Blister Foil:
The protective properties are not strong because of the PVC's poor barrier against moisture and oxygen ingress.
The slower speed of production compared to thermoforming;
The package is opaque, making the inspecting system, which rejects the faulty blister card, complicated and costly.
The cost of cold forming aluminum film is higher than PVC.
The larger size of the blister card (aluminum cannot be formed with near 90 degree angles) increases the material cost.
Because the cavity or pocket is larger than the drug, the feeder should be dedicated. this increases the cost and difficulty of operation.

Not suitable for light-sensitive drugs because of the transparency of PVC.
Processing of Alu-Alu Bottom Foil:
| | |
| --- | --- |
| PRODUCING PROCESS: | 1.printing → 2.laminated → 3.Curing → 4.cutting → 5.Quality Inspection → 6.Package →7.Delivery |